Disc fitting guide
Mounting your new discs
When fitting your new Race Discs brake discs, ensure that the hub mating surface is clean. As with all manufacturers' recommendations we advise that you apply a small amount of thread locking compound to the thread of each bolt before assembling. Align the disc and tighten the bolts / nuts to the manufacturers' recommended torque settings (normally a maximum of 10ft/lbs / 15NM for M6 bolts). We would advise that you also fit new mounting bolts / nuts (Race Discs stainless mounting kits are available to purchase, click the image below to go to our rotor mounting bolt page: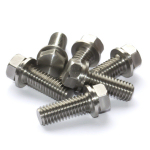 Brake pads
We strongly advise that new brake pads are fitted when replacing brake discs. Race Discs brake discs are fully compatible with all types of sintered and non-sintered brake pads on the market.
Bedding in
All new disc & pad combinations require a 'bedding in' period whereby brakes should be applied more gently and less frequently for a period of a 2-3 hours or so. This process ensures a harmonious relationship between the two mating surfaces of disc and pad. Over aggressive initial use can lead to excessive wear of disc or pad or both.