Product News
2016-18 Yamaha 270mm front disc
The new 270mm front disc for 2016-18 models is now in production!: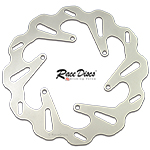 2015-18 Honda CRF 250R & 450R 260mm front disc
The new 260mm front disc for 2015 models is now in production: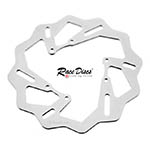 New Disc - Honda CRM / XR / early CR
We have added yet another hard to find brake disc to our range; the Front disc for the early CR 125 and CR 250 and the ever popular trail bike; the CRM 250 MK1, MK2, MK3 and the active radical. Also the XR range: the XR 250, XR 400, XR 600 & XR 650.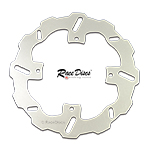 KTM Stainless disc mounting bolts
We are pleased to announce that we can now offer individually CNC machined, stainless steel disc mounting screws/bolts for KTM models (and others). Our stainless 8mm hex head (6mm thread) flange bolts replicate the original (OEM) KTM disc bolts (with other applications throughout the bikes) but are manufactured from stainless steel to ensure you don't get that nasty corrosion/oxidation look to your bolt heads. You will not find these bolts in stainless anywhere else!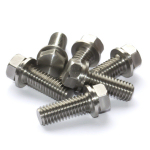 Stainless brake pins
We are pleased to announce that we can now offer individually precision machined stainless steel brake pins for all models (including KTM non-threaded pins with R clips). We have developed these stainless pins for the discerning rider who wants to maintain flawless braking efficiency and equilibrium. Our stainless pins offer many advantages over the cheaply made standard mild steel zinc plated ones; namely:
Zero corrosion/rusting
Vastly increased resistance to ridging which inhibits and unbalances braking force
Zero maintenance (no lubrication required)
Ease of withdrawal for pad changes
Extended pad and disc life through reduced friction between pad and pin
Remains shiny, clean and looking great - permanently!
Solid rear discs
Due to a significant number of requests for solid discs we have developed and can now offer solid rear discs for KTM, Gas Gas and Husaberg models. Solid discs can be beneficial for the less frequent / less competitive rider (trail/enduro) or for racing / riding on sand or in gritty conditions and can offer significantly increased brake pad life.
Use the solid disc for sand track racing (Weston Beach Race, sand MX tracks etc) for significantly increased pad life.
The solid discs are now in stock and ready to dispatch!
We will await expression of interest from owners of other manufacturers' bikes (Yamaha etc) before producing solid discs for other manufacturers...watch this space!